Is there something else going on in Los Angeles this weekend?  SCALE9x crashes the Airport Hilton in sunny Los Angeles this weekend and open source enthusiasts from around the globe are descending en force.  Swapping red carpets for red fedoras and VIP passes for IPv6 classes, the international FOSS community is gathering for one of the biggest open source conferences geared toward the discriminating hardcore geek.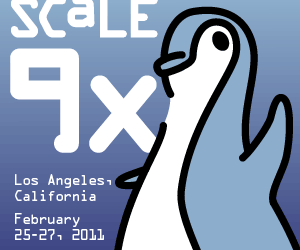 Boxee will be there representing in full effect with your friendly neighborhood community evangelist Rob sporting the punch-drunk frog loud and proud all weekend long.  Check out these tasty Boxee appearances on Saturday:
Open Source Television – 3pm Saturday, Century AB: Rob gives a talk on what Boxee gives and gets from the open source community.
FLOSS Media Center Panel – 1:30pm Saturday, La Jolla: Rob joins XBMC's Cory Fields and LinHES's Cecil Watson and Michael Hanson to talk about the future of open source in the living room.
The Weakest Geek – 7:30pm Saturday, La Jolla: Street cred is the most valuable currency in SCALE9x's annual geek trivia contest – will Rob have what it takes to be the weakest of all?
Full schedule of festivities is here.  Rob will be in attendance all weekend, so keep an eye out for a Boxee t-shirt, a punk rock Thinkpad and a hearty laugh and say hello!